Feeding your senior cat
Every cat needs a complete and balanced daily diet, full of goodness and wholesome ingredients to keep them in tip top condition. And cats of more advanced years need specific nutrients in their diet to help keep a spring in their step. Here you'll find our top tips on feeding your senior cat - advice on evolving needs, choosing the right food, and on the special nourishment your feline friend needs to help stay healthy and happy.


"CATS OF MORE ADVANCED YEARS NEED SPECIFIC NUTRIENTS IN THEIR DIET TO HELP KEEP A SPRING IN THEIR STEP"
YOUR SENIOR CAT'S NEEDS
• Elderly cats have specific dietary requirements - they have smaller appetites and require energy dense, highly digestible food. This is also important because they are often less mobile and don't get as much exercise as younger cats and so need to avoid obesity.
• A senior diet should reflect a mature cat's specific needs by containing high quality ingredients that are easily digestible and rich in nutrients and vitamins. They also require a lower fat diet that still provides them with all the important healthy fats and proteins they need every day.
• Senior diets are usually fed to mature cats from age seven to ten and onwards.
• At Lily's Kitchen we believe in natural recipes, free from any meat meal or nasties, whatever age your cat. However this becomes even more important as your cat grows older, as senior cat food in particular should contain as few toxins as possible, so as not to put a strain on the liver and kidneys, and ease their body's workload. For this reason, it's best to give them an organic or natural diet.
• Mature cats also need higher levels of antioxidants and vitamins in their diet, to help to protect their bodies from the damaging effects of free radicals.




"YOUR MATURE CAT'S FOOD SHOULD CONTAIN FEWER TOXINS, WHICH WILL PUT LESS STRAIN ON THE LIVER AND KIDNEYS"
MAKING CHANGES TO THEIR DIET
• Senior diets are usually more energy and nutrient dense, so can be fed in smaller quantities to reflect the reduced appetite of a mature cat. (Our single serve trays are perfect for feeding little and often).
• Your cat's digestive system will be more sensitive as they get older, so it's important not to make any abrupt changes to their diet to avoid the risk of tummy upsets.
• Whilst some cats tend to put on weight as they get older and become less active, others have the opposite problem and become very thin as they age. Be aware of their weight and appetite, and tailor your mature cat's care and diet to their individual needs.
THE BEST NUTRITION FOR SENIOR CATS
• Lily's Kitchen Marvellously Mature grain free senior cat food recipe is specially created for cats of more advanced years. Our dry recipe contains glucosamine for joint support, prebiotics for healthy digestion, and Ginkgo Biloba and omega 3's for brain function.
• The herbs in our Marvellously Mature wet and dry recipes are especially beneficial for senior cats. Turmeric provides antioxidant support for overall health, whilst the boswellia helps to support the body's natural anti-inflammatory processes, playing an important role in maintaining smooth and comfortable joint movement.
• All the naturally nutritious ingredients in our recipes for senior cats have been carefully chosen to look after your older cat's mobility, immune system and brain function.
RECIPES FOR
SENIOR CATS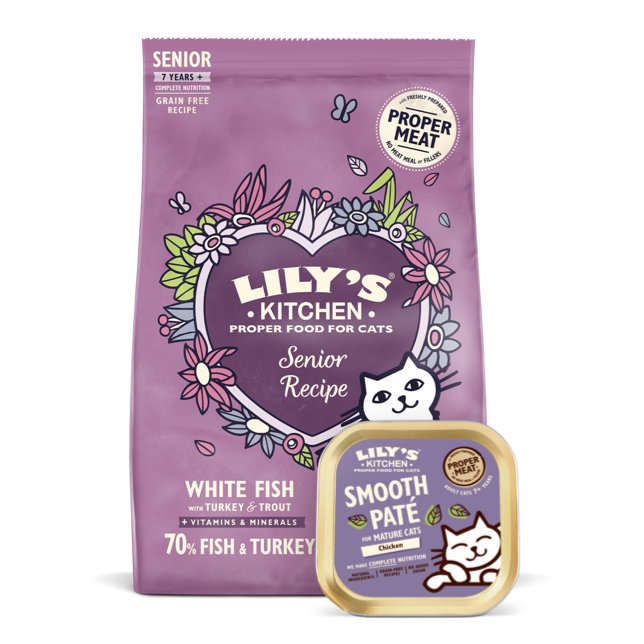 Our nutritious, natural recipes for mature cats are packed full of proper meat, specially tailored to help support their stage of life and provide the very best nourishment for your four-legged friend.
See Menu