Grain free diets
Grains are basic energy foods - a source of complex carbohydrates – and so you might wonder what the benefit of a grain free diet is for your cat. Here you'll find out more about feeding your cat a grain free diet and why choosing the right food can make them happier and healthier.

"CATS DON'T EAT GRAINS SUCH AS RICE OR WHEAT AS PART OF THEIR NATURAL DIET"
LOOK FOR GRAIN FREE RECIPES
Cats are obligate carnivores (meaning they must eat meat or fish to live healthily). In fact, research has shown that cats have minimal ability to digest and make use of carbohydrates in their diet, as they don't produce salivary amylase (an enzyme that breaks down starch). Cats don't eat grains such as rice or wheat as part of their natural diet, which may be an old survival mechanism to prevent them from consuming plants that would be poisonous to them.
WHAT WOULD A CAT'S NATURAL DIET BE?
A cat's natural diet is meat and offal which is a reflection of their natural prey. Felines will consistently choose a diet that reflects as closely as possible the same level of proteins, carbohydrates and fats that are contained in their natural prey of mice and birds. This is around 52% protein, 36% fat and 12% carbohydrates.

"LOOK FOR A NUTRITIONALLY COMPLETE, GRAIN FREE RECIPE FOR YOUR CAT, MADE WITH NATURAL INGREDIENTS"
What kind of grain free food should I choose for my cat?
Look for a nutritionally complete, grain free recipe for your cat, made with natural ingredients. Many conventional dry cat foods usually contain a high proportion of carbohydrate because the manufacturing process requires the starch to help the kibble stick together; it acts rather like a glue. Grain free dry foods are often produced in a more natural way, so no grains are needed for binding at all.
LILY'S KITCHEN GRAIN FREE RECIPES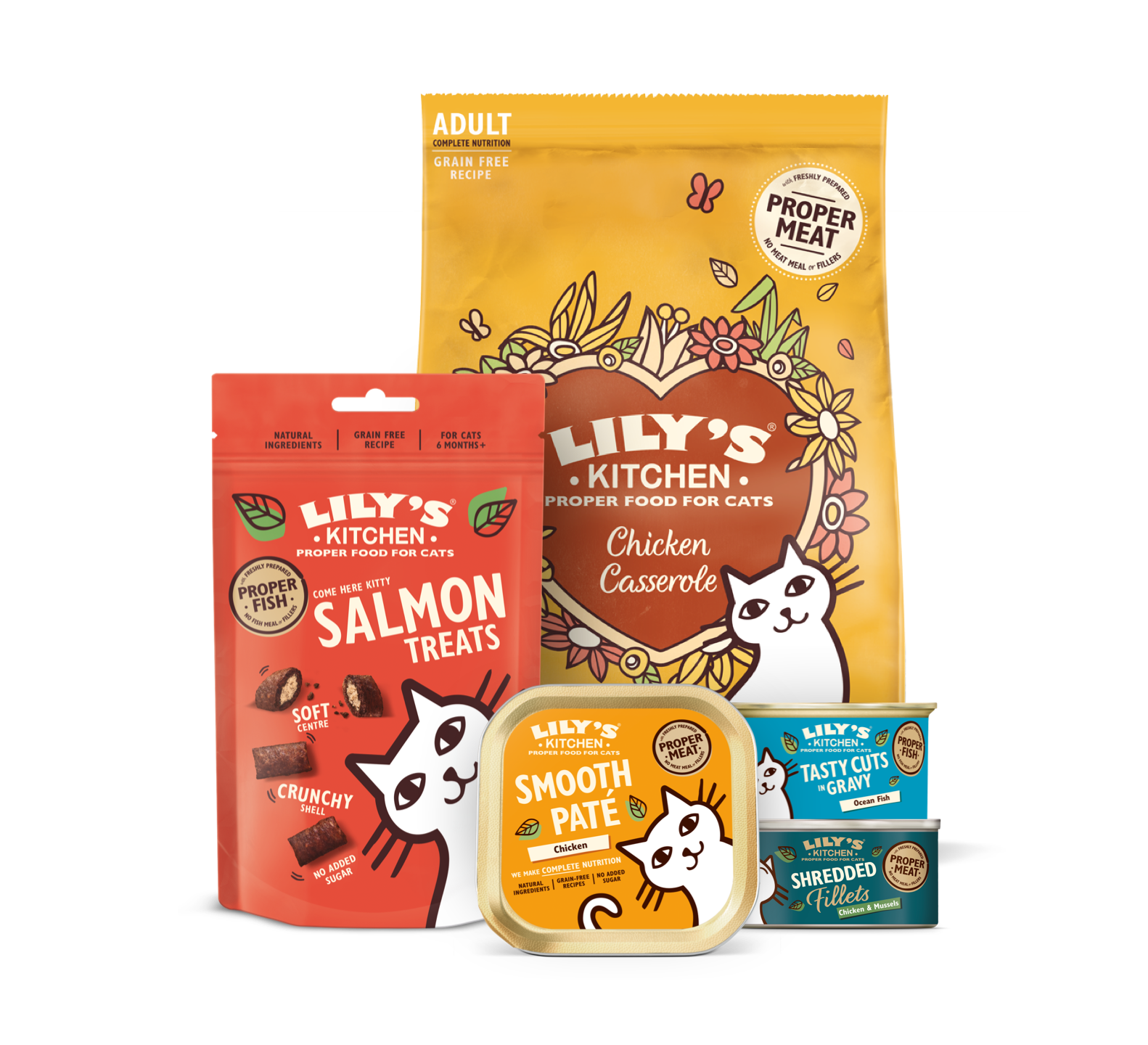 Here at Lily's Kitchen all our recipes for cats are grain free. Our nutritionally complete dishes are all high in protein and low in carbohydrates, so the source of energy in our food comes from protein and good fats – which most closely reflects a cat's natural diet and is much better for your feline friend.

We pack our delicious, wholesome recipes with proper meat and nutritious offal, plus all the vitamins and minerals your cat needs to stay fit and healthy, just as nature intended.
Shop Now