Grain free diets
A grain-free recipe diet is one that doesn't use any ingredients that are defined as grains. Grains are cultivated cereals and include wheat, maize, oats and barley. They are a primary energy food and a source of complex carbohydrates which have long formed part of our human diet. Many dogs eat grains in their food everyday too – however for some dogs, grains simply don't agree with them. Here, you'll discover why you might consider feeding your pooch a diet made up of grain-free recipes.


"dogs are often classified as carnivorous omnivores"
CAN DOGS EAT GRAINS?
Omnivores eat food from both plant and animal origin, whereas carnivores eat only meat. Humans are omnivores and dogs are often classified as carnivorous omnivores. In other words, they eat most things, but flourish best on a meat-based diet.

So, yes, dogs can eat grains. Our four-legged friends thrive on a varied diet that contains vegetables, fruits, nuts, seeds, grain and most importantly, is rich in meat. Wholegrains can play a part in a dog's diet and did so historically when wolves would have consumed the partly digested grains their prey had fed on.
IS THERE ANY PROBLEM WITH FEEDING GRAIN TO DOGS?
Wholegrains such as rice, oats, spelt and rye are nutritious grains and can play a part in many dogs' diets with no problems at all. They may just need to be consumed in moderation, as nature intended.

However, some dog foods contain a high level of processed grains, such as wheat, maize and barley. Grains are often used as a cheap ingredient substitute over more expensive ingredients.

Many dog parents who themselves have experienced great benefits from going gluten or grain-free want their pets to have the same improvements to their lifestyle – which leads them into offering their pets gluten-free or grain-free foods.
WHAT GRAINS ARE IN REGULAR DOG FOOD?
Cereals by their nature can be excellent sources of nutrients - in particular - energy and vitamins; these help support a dog's health and well-being. Many regular dog foods use a variety of different cereals and grains, including wheat, maize and barley. These are readily available and can sometimes make up between 60-70% of a given recipe.

Choosing a food for your furry friend can be a challenge as there are so many options available and it is often difficult to identify which one is right for your dog. Choosing a food that does or doesn't contain grain is a personal decision. Knowing what your dog likes and prefers is key. Some dogs may not tolerate grains at high levels very well and so it is important to understand the label information in order to make an informed choice.


"Some dogs with sensitive digestions can thrive on a grain-free diet"
WHAT IS THE DIFFERENCE BETWEEN GRAIN FREE AND GLUTEN FREE?
A grain-free diet is one where a conscious decision has been made to avoid traditional grains. The diet aims to avoid the main cereal grains like wheat, maize and oats or other cereal grains that are thought to cause pets to react to the food.

Gluten is a general term for some of the proteins commonly found in wheat, maize and oats that are believed to trigger a negative reaction in some pets.
WHAT ARE THE BENEFITS OF GRAIN-FREE RECIPES FOR DOGS?
Cutting out highly processed grains may help some pooches who suffer from conditions such as inflammatory bowel disease, skin diseases, allergies, wind, constipation, diarrhoea, lack of appetite, lack of energy and many chronic health complaints. It can also help with weight loss—a healthier dog may be more willing to do an extra lap around the park, if their pet parent can handle it!

Some dogs with sensitive digestions can thrive on a grain-free diet. Once your vet has ruled out any medical condition that requires treatment, following a grain-free diet may, over a few weeks, may lead to improvements to your dog's over all state of health - especially to their digestion.


"Like humans, one diet type won't meet the needs of every dog"
ARE GRAIN-FREE DIETS SUITABLE FOR ALL TYPES OF DOGS?
Like humans, one diet type won't meet the needs of every dog. Dogs are similar to us in the way that there are so many different types and breeds. Some breeds are predisposed to some genetic conditions relating to allergies, and so they are more susceptible to specific allergies.

This can include the following breeds: Chinese Shar-Peis, Wirehaired Fox Terriers, Golden Retrievers, Dalmatians, Boxers, Boston Terriers, Labrador Retrievers, Lhasa Apsos, Scottish Terriers, Shih Tzus, and West Highland White Terriers. However, it is possible that any dog of any breed (or mixed breeds) can be allergic. Which is why it is important to understand your dog's personal requirements when it comes to certain types of foods and ingredients.
WHAT ARE GRAINS SUBSTITUTED FOR IN GRAIN-FREE RECIPES FOR DOG FOOD??
A grain-free recipe works to ensure that any ingredient that we would generally class as a grain is not added to the recipe. Not only are common cereals such as wheat, maize and barley quashed but others like rice, oats and rye are avoided. The recipes are carefully developed to work without the use of these common grains and other ingredients are added to help ensure the recipes are complete and balanced. Many incorporate the use of vegetables like peas and potatoes as well as the use of seeds and legumes like flaxseed and lentils to help balance the meals.

All the Lily's Kitchen grain-free, complete recipes are carefully developed to ensure they are nutritionally balanced to help provide the best possible diet for your furry family.
LILY'S KITCHEN GRAIN FREE RECIPES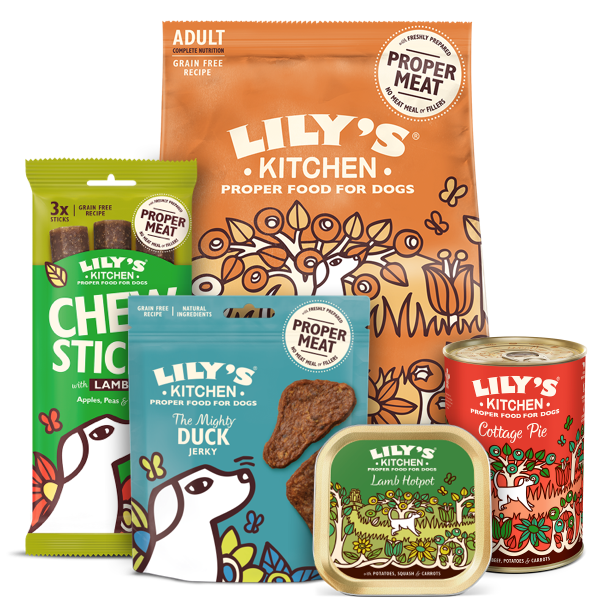 As just mentioned, we have a delicious menu of nutritionally complete, grain free recipes for dogs here at Lily's Kitchen, all of which do not have added ingredients that are often associated with dietary allergens. They're bursting with goodness as they're made with natural ingredients, proper meat and offal, and make ideal meals for dogs with sensitive tums or those recommended to be on a grain-free diet.

The proper meat and offal in our food is either fresh or freshly prepared. There's no meat meal or rendered meat in there, only responsibly sourced meat and offal along with top notch natural ingredients, all chosen for their quality and high nutritional content to help keep your woofer in tip top condition. Let the drooling begin
Shop now