Grain free diets
A grain free diet is one that does not contain any grains - a basic energy food and source of complex carbohydrates which have long formed part of our human diet. Many dogs eat grains in their food everyday too - but is there any reason why this might not be such a good thing? Here you'll discover why you might feed your dog a grain free diet and why it might help them to feel happier and healthier.


"THERE IS STILL A BIG DISCUSSION IN THE PET COMMUNITY AS TO WHETHER DOGS ARE OMNIVORES OR CARNIVORES"
CAN DOGS EAT GRAINS?
There is still a big discussion in the pet community as to whether dogs are omnivores or carnivores. Omnivores eat food from both plant and animal origin, whereas carnivores eat only meat. Humans are omnivores and dogs are often classified as carnivorous omnivores. In other words, they eat most things, but thrive best on a meat-based diet.

So, yes, dogs can eat grains. Indeed, they thrive on a varied diet that contains vegetables, fruit, nuts, seeds, grain and most importantly, is rich in meat. Wholegrains can play a part in a dog's diet and certainly did so historically when wolves would have consumed the partly digested grains their prey had fed on.
IS THERE ANY PROBLEM WITH FEEDING GRAIN TO DOGS?
Wholegrains such as rice, spelt and rye are nutritious and healthy and do play a part in many dog's diets with no problems at all. They just need to be consumed in moderation, as nature intended.

However, many everyday types of dog food contain a disproportionately high level of highly processed grain, such as wheats and other cereals. And sometimes, grains are even used as a cheap source of protein, in place of proper amounts of meat! Only around 15% of UK dog food recipes are actually grain free.

Along with this high cereal trend in dog foods, human diets have also had relied very much on wheat in the past few decades and the number of people suffering with either true gluten allergies or immune mediated diseases and sensitivities, has risen dramatically.

Many dog owners who themselves have experienced great benefits from going gluten or grain free want their pets to have the same improvements to their lifestyle – hence choosing to offer their pets gluten free foods.


"Only around 15% of UK dog food is actually grain free"
WHAT IS THE DIFFERENCE BETWEEN GRAIN FREE AND GLUTEN FREE?
Gluten is the protein that is found in specific types of grain, such as wheat, barley and rye. Gluten free food is, of course, free of these proteins. However, not all grains contain gluten. Therefore, gluten free dog food may or may not be grain free, while grain free dog food recipes will always be gluten free.
CAN GOING GRAIN FREE HELP MY DOG?
Cutting out the grains may help dogs who suffer from conditions such as inflammatory bowel disease, skin diseases, allergies, wind, constipation, diarrhoea, lack of appetite, lack of energy and many chronic health complaints. It can also help with weight loss, as a healthier dog will be much more willing to exercise well and run about and lose weight!

There is also a growing amount of research to suggest that dogs with sensitive digestions can do well on a grain free diet. Once your vet has ruled out any medical complaint that requires treatment, following a grain free diet may, over a few weeks, make improvements to your dog's overall state of health - especially to their digestion.
LILY'S KITCHEN GRAIN FREE RECIPES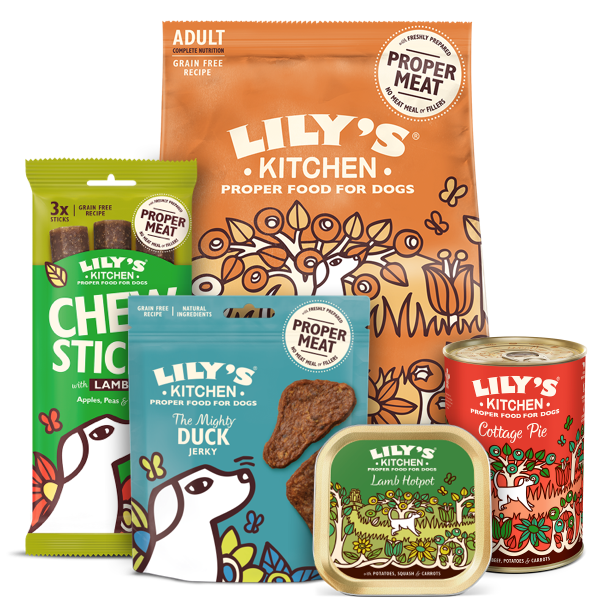 We have a delicious menu of nutritionally complete, grain free recipes for dogs at Lily's Kitchen, which are also free of common dietary allergens. Bursting with goodness, these delicious dishes and treats are ideal for dogs with sensitive tums or who are on a grain free diet.

The proper meat in our food is either fresh or freshly prepared. No meat meal and no nasties in sight - just the very best natural ingredients, all chosen for their high nutritional content to help keep your dog in tip top condition.
Shop now