Dental care for dogs
Bad breath in dogs is a common problem and in any cases can be a sign of dental disease. Poor dental health affects around 80% of the pet population and can lead to pain and infection that can actually cause your pet to lose their teeth. Here you'll find out about how to look after your dog's teeth – spotting the signs of dental problems, following a proper dental care routine, and the best ways to keep their smile happy and healthy.


"POOR DENTAL HEALTH AFFECTS AROUND 80% OF THE PET POPULATION"
How to spot the common signs of dental disease
It's a good idea to get into the habit of regularly checking your dog's mouth when they are calm and relaxed. Gently lift up their lip to get a good look at your dog's teeth and gums. The gums should be a nice healthy pink, and their teeth should be fairly white, and their breath not too offensive!
● Accumulations of brown tartar, a red line at the gum margin and halitosis (bad breath) are all signs that your dog is suffering from dental disease.
● If your dog has severe dental disease they may find it painful when they are eating and their gums may bleed. They might also drop food, drool saliva or rub at their mouths - and they won't want you to touch their mouths at all.
● All these problems are usually a sign that your dog has inflamed gums (called gingivitis and potentially some rotten teeth.)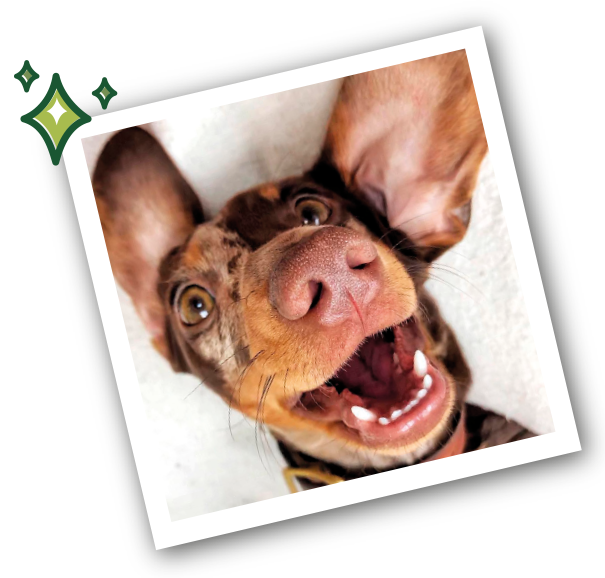 Why is a regular dental care routine so important for your dog?
Prevention is by far the best approach for helping your dog with their dental health. Start by making sure that your dog's diet is healthy and wholesome. The next big thing is cleaning. Unless you take steps to clean their teeth every day, an invisible film of sticky plaque will build up on your dog's teeth. This is bad because plaque will accumulate to become the hard, brown, material that we can see, which is called tartar. Tartar causes inflammation of the gums, gingivitis, and periodontal disease, which eventually leads to rotten teeth and tooth loss.
Since tartar can't be removed by brushing it will become necessary for your dog to go to the vets for a 'dental' where your vet removes it whilst your dog is under general anaesthetic. Far better therefore to spend a few minutes each day brushing your dog's teeth to remove the plaque before it becomes the brown cement of tartar!
how to brush your dog's teeth
It's a good idea to ask your vet or vet nurse to give you a demonstration of how best to clean your dog's teeth – that way you'll get it right from the start.
● Choose a time when your dog is naturally quiet and relaxed, then establish a routine by doing it at the same time each day.
● You can use a toothbrush specially designed for dogs, a rubber finger brush or an electric toothbrush too (if your dog will tolerate the sound). The main thing is that it is soft and appropriately sized for your dog's mouth.
● Choose a dog toothpaste which is low foaming and free from artificial flavourings and colourings. Many pet toothpastes are enzymatic, which means that they contain enzymes to help break down the food debris that sticks to the teeth and can be swallowed. Most pet toothpastes are also meat flavoured too so that they're better tolerated by your dog. Don't use toothpaste for humans – these are designed to be spat out and are not good for your dog.
● To begin with, massage your dog's gums with your finger to help them get used to the new sensation. Then gradually introduce the toothbrush. Brush gently, stroking from the gums downward.
● Start by brushing for just a minute or two a day and build up. If you make brushing a habit and follow it with a treat or reward, your dog will soon start to become used to it and even enjoy it!


"Prevention is by far the best approach for helping your dog with their dental health"
What about dental chews?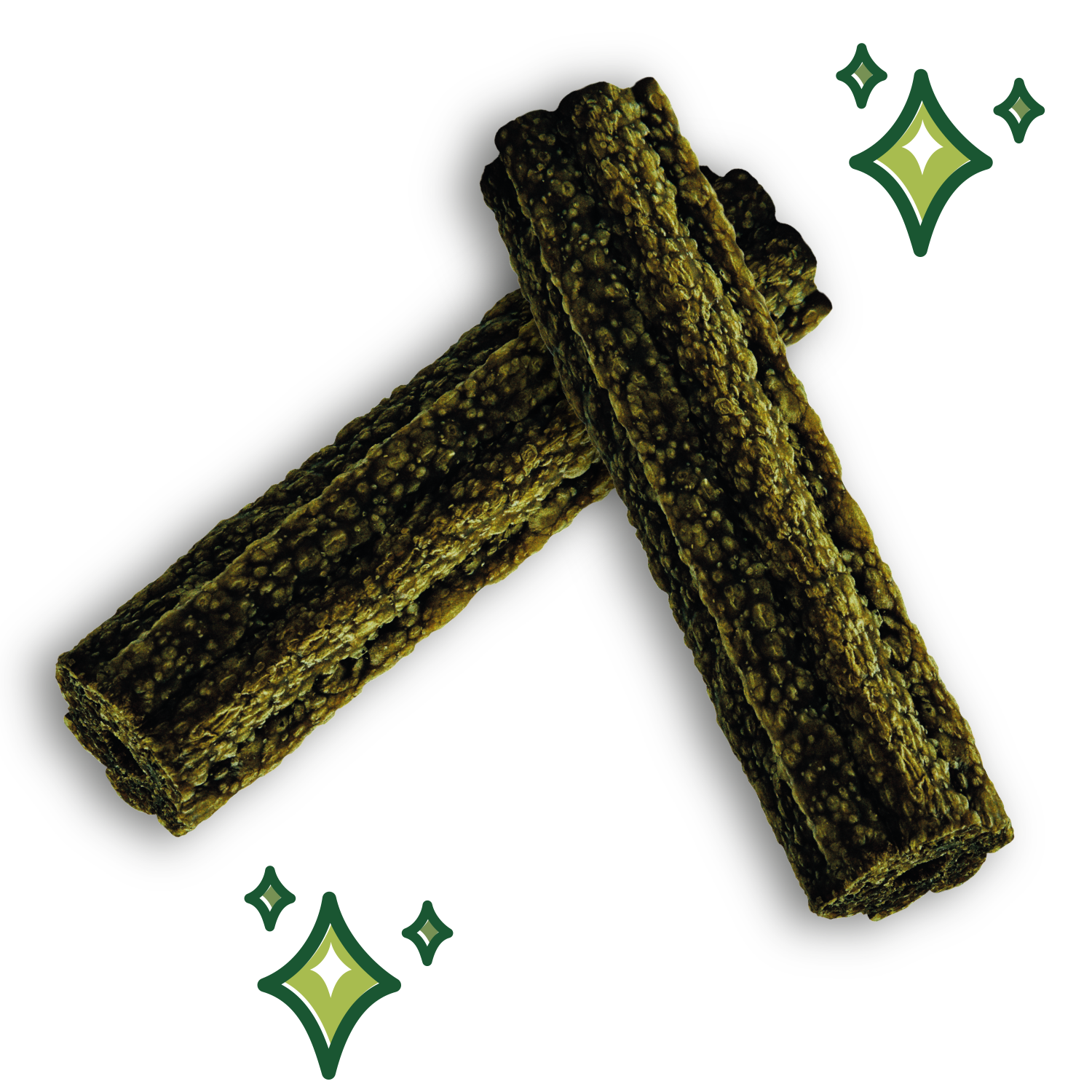 Offering a dental chew to your dog regularly can help look after their teeth in several ways. Firstly, the mechanical action of chewing can help to physically shift plaque and tartar. In addition, chewing stimulates the release of saliva, which in turn can help to flush away bacteria and debris which would otherwise end up as plaque.
It's very important to ensure that the chew you give them is not too hard. Anything harder than a tooth can cause your dog's teeth to splinter or fracture when they try to chew down hard and apply pressure.
Introducing woofbrush
For a proper clean, without the added nonsense.
Now your dog can get a Hollywoof smile with Woofbrush - the dental chew with a difference. Thanks to its unique spongey texture, this clever chew flexes right around the gumline to remove plaque, clean teeth and freshen breath.
Woofbrush has been carefully crafted with our pet dental expert to make sure it works brilliantly. And because it's so important that your dog's dental chew is as kind to their tummy as it is to their teeth, ours is made with top notch, natural ingredients, such as coconut oil, parsley and fennel.
SHOP NOW