Dental care for dogs
MEET RORY THE VET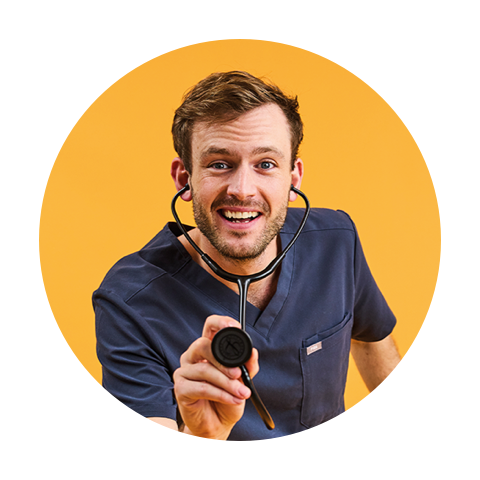 We've partnered up with animal whisperer and renowned veterinarian, Dr Rory Cowlam, to share his wisdom when it comes to all things furry. And boy, does this man know his stuff.
Starting with his degree from the Royal Veterinary College, Rory has since co-starred in the CBBC's series The Pet Factor, shared his knowledge on the likes of Blue Peter and written all about it in his book, Secret Life of a Vet..

Follow him on Instagram
Woofers. They're cute, right? All that strokable fur, that goofy smile, the way they excitably greet you even when you've left the house for only a mere five minutes. But have you ever taken a whiff of their breath? Not quite as cute. The sad case is, bad breath in dogs is a common problem and, in many instances, can be a sign of dental disease. Poor dental health affects around 80% of the pet population* and can lead to pain and infection that can cause your pet to lose their teeth. Here, we'll guide you through the best ways to look after your dog's gnashers, from spotting the signs of dental problems and following a proper dental care routine, to thoughtful diets that will help keep their smile happy, healthy and as goofy as ever.

*Source: Vet Times, Impact of nutrition on dental issues in companion animals, October 2014


"POOR DENTAL HEALTH AFFECTS AROUND 80% OF THE PET POPULATION"
How to spot the common signs of dental disease
It's a good idea to get into the habit of regularly checking your dog's mouth when they are calm and relaxed. Gently lift up their lip to get a good look at their teeth and gums. The gums should be a healthy pink, their teeth should be fairly white and their breath not too offensive.
● Accumulations of brown tartar, a red line at the gum margin and halitosis (bad breath) are all signs that your pooch is suffering from dental disease.
● If your dog has severe dental disease, they may find it painful when they are eating, and their gums may bleed. They might also drop food, drool saliva or rub at their mouths - and they won't want you to touch their mouths at all.
● All these problems are usually a sign that your dog has inflamed gums (called gingivitis) and potentially some rotten teeth.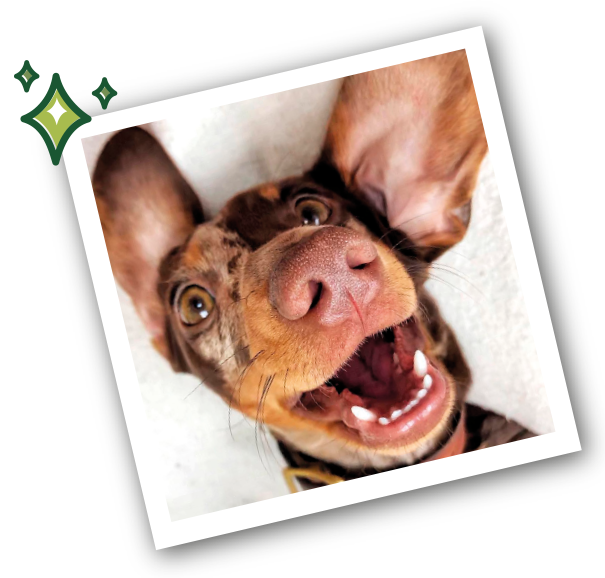 How to help your dog prevent dental issues
Prevention is by far the best approach for helping your four-legged friend with their dental health. Start by making sure that your dog's diet is healthy and wholesome (more on that later). The next big thing is cleaning. Unless you take steps to clean their teeth every day, an invisible film of sticky plaque will build up on their teeth. This is bad because plaque will accumulate to become the icky, hard, brown, material that we can see, known as tartar. Tartar causes inflammation of the gums, gingivitis and periodontal disease, which eventually leads to rotten teeth and tooth loss.
Since tartar can't be removed by brushing, it will become necessary for your dog to go to the vets for a 'dental' where your vet removes it using general anesthetic. By spending a few minutes each day brushing your dog's teeth, you can help remove the plaque before it gets to that point.
Tooth be told: How to brush your dog's teeth
It's a good idea to ask your vet or vet nurse to give you a demonstration of how best to clean your dog's teeth – that way you'll nail it from the start.
● Choose a time when your dog is naturally quiet and relaxed, then establish a routine by doing it at the same time each day.
● You can use a toothbrush specially designed for dogs, a rubber finger brush or an electric toothbrush too (if your dog will tolerate the sound). The main thing is that it is soft and appropriately sized for their mouth. If in doubt check with your vet.
● Choose a dog toothpaste which is low foaming and free from artificial flavourings and colourings. Many pet toothpastes are enzymatic, which means that they contain enzymes to help break down the food debris that sticks to the teeth and can be swallowed. Most pet toothpastes are meat flavoured too so that they're better tolerated by your dog. Don't use toothpaste for humans – these aren't designed to be swallowed and are not good for your pet.
● To begin with, massage your dog's gums with your finger to help them get used to the new sensation. Then gradually introduce the toothbrush. Brush gently, stroking from the gums downward.
● Start by brushing for just a minute or two a day and build up. If you make brushing a habit and follow it with a delicious treat or reward, your dog will quickly get the hang of it.

"Prevention is by far the best approach for helping your dog with their dental health"
RORY THE VET EXPLAINS
"Canine dental hygiene was voted among the top five welfare concerns by vets in the UK. That is terrible. So we need to do more. Toothbrushing is by far and away the most effective thing people can do at home to help their dog's teeth. However, Woofbrushes are a great alternative if your dog does not like that toothbrush."
I chews you: The benefits of feeding your dog dental chews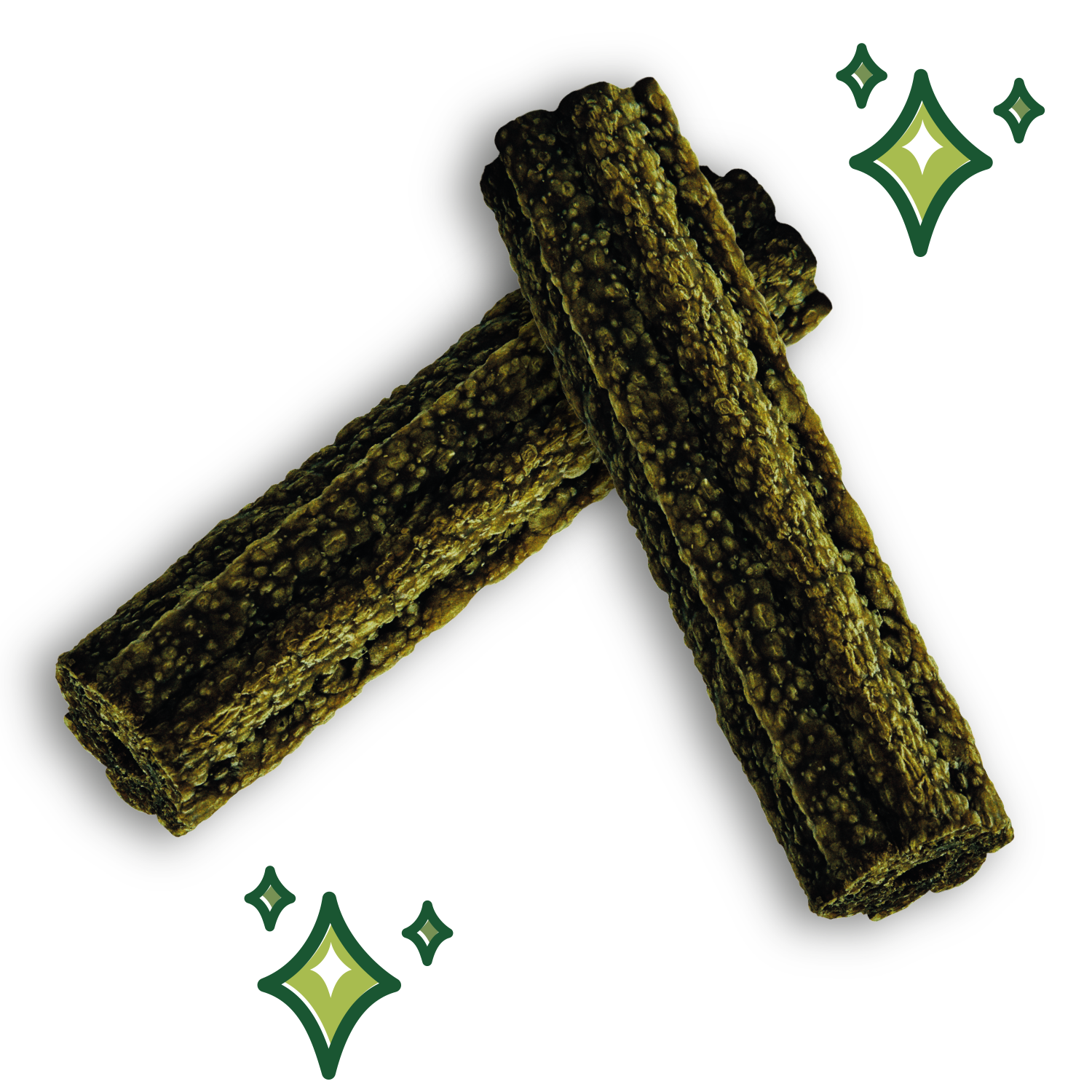 Offering your dog a dental chew on a regular basis can help look after their teeth in several ways. Firstly, the mechanical action of chewing can help to physically shift plaque and tartar. In addition, chewing stimulates the release of saliva, which can help to flush away bacteria and debris which may otherwise end up as plaque.
Since dogs eat their 'toothbrush and toothpaste', I recommend choosing a dental chew made with natural ingredients that are as kind to their tummy as their teeth.
Teeth cleaning made tasty
Made with natural ingredients, as well as a touch of parsley, coconut oil and fennel, our Woofbrush chews are delicious daily dental treats, made with a chewy bubbly texture that works to reach your doggo's gumline to help support the fight against plaque.
The Woofbrush Gut Health Chew goes even further, containing inulin from chicory root and prebiotics and psyllium seed husk for added fibre, it may help support gut-friendly bacteria.
SHOP NOW
Frequently asked questions with Rory the Vet
Q: How often should you brush your dog's teeth?
A: When I am in clinic, I usually answer this question with another question… How often do you brush your teeth? No, I've not got a weird interest in people's dental habits, I am simply making the point that we should really be looking to brush our dog's teeth as often as possible! The European Veterinary Dentistry Society suggests a MINIMUM of three times a week, but I usually recommend once a day. This is not only often enough to really help keep those teeth and gums healthy, but it is also really helpful for your dog as it forms part of their daily routine, meaning they are more likely to accept that toothbrush sooner.
Q: Can you brush your dog's teeth with human toothpaste?
A: Strong no here. I know it may seem strange that there are dog specific toothpastes out there but hear me out. Most human adult toothpastes have fluoride in them. This is actually pretty toxic to dogs, and you will notice that dogs don't generally spit toothpaste out like we do, they swallow it. Not good!
Q: What can I brush my dog's teeth with?
A: I thought you would never ask! I generally recommend any CANINE specific toothpaste. The best ones are those with enzyme action as they help remove plaque and tartar.
Q: What does a rotten dog tooth look like?
A: What a great question! In reality, there are lots of ways a tooth can look bad. When you see teeth in your dog's mouth, you can actually only see around 1/3 of the whole tooth. The roots are massive! Obvious signs of disease are discolouration of the tooth compared to others in the mouth, high levels of plaque and tartar, a broken tooth or exposed tooth root.
Q: What do healthy dog gums look like?
A: Dogs usually have nice pale pink gums. Some dogs will have pigmented gums so don't worry if your dog has always had some dark colouring to their gum or tongue, this can be completely normal.
Q: What colour should your dog's gums be?
A: A nice pale pink. Gingivitis and stomatitis are very common issues in canine mouths and they start with a deep pink appearance to the tooth-gum border. This can then progress to patches of redness, sore ulcers and spontaneous bleeding.
Q: How often should you give your dog a dental chew?
A: This is a really difficult one. On one hand, a daily chew can really help with gum disease. On the other hand, obesity in our dogs in the UK is a massive issue. I would suggest following the recommendation on the back of the packet or, even better, work out the calorie content of the chews you are using and then remove the equivalent amount from their dinner! (If they look at you like you're evil, you can blame me!)