Feeding your senior dog
Every dog needs a complete and balanced diet, full of goodness from wholesome ingredients to keep them in tip top condition. And dogs of more advanced years need specific nutrients to help keep a spring in their step and that wag in their tail! Here you'll find our top tips on feeding your senior dog - advice on evolving needs, choosing the right food, and on the special nourishment your much-loved friend needs to stay healthy and happy.


"DOGS OF MORE ADVANCED YEARS NEED SPECIFIC NUTRIENTS IN THEIR DIET TO HELP KEEP A SPRING IN THEIR STEP"
YOUR SENIOR DOG'S NEEDS
• Senior diets are usually fed to mature dogs from age eight onwards.
• At Lily's Kitchen we believe in natural recipes, free from any meat meal or nasties, whatever age your dog. However this becomes even more important as your dog grows older, as senior dog food in particular should contain as few toxins as possible, so as not to put a strain on the liver and kidneys, and ease their body's workload. For this reason, it's best to give them an organic or natural diet.
• Older dogs also need higher levels of antioxidants and vitamins in their diet, to help protect their bodies from the damaging effects of free radicals. These are present in all healthy, fresh, natural foodstuffs, but can also be given as supplements in their own right. Anti-oxidants help combat the everyday signs of ageing, so are a particularly important addition to an elderly dog's diet.
• Obesity is one of the biggest problems in senior dogs. As well as making it more difficult for your old friend to get around on their arthritic legs, being overweight affects their heart and general health.




"YOUR DOG'S DIGESTIVE SYSTEM WILL ALSO BE MORE SENSITIVE AS THEY GET OLDER"
MAKING CHANGES TO THEIR DIET
• As your older dog slows down and becomes less active, they'll usually need fewer calories in their daily diet. However, it's not as simple as just feeding your dog less - your trusted companion actually needs a different, more nutrient dense food.
• Your dog's digestive system will also be more sensitive as they get older; making it particularly important not to make any abrupt changes, to avoid the risk of tummy upsets. This more delicate digestive tract is also the reason that senior dogs are fed a more easily digestible diet.
RECIPES FOR
SENIOR DOGS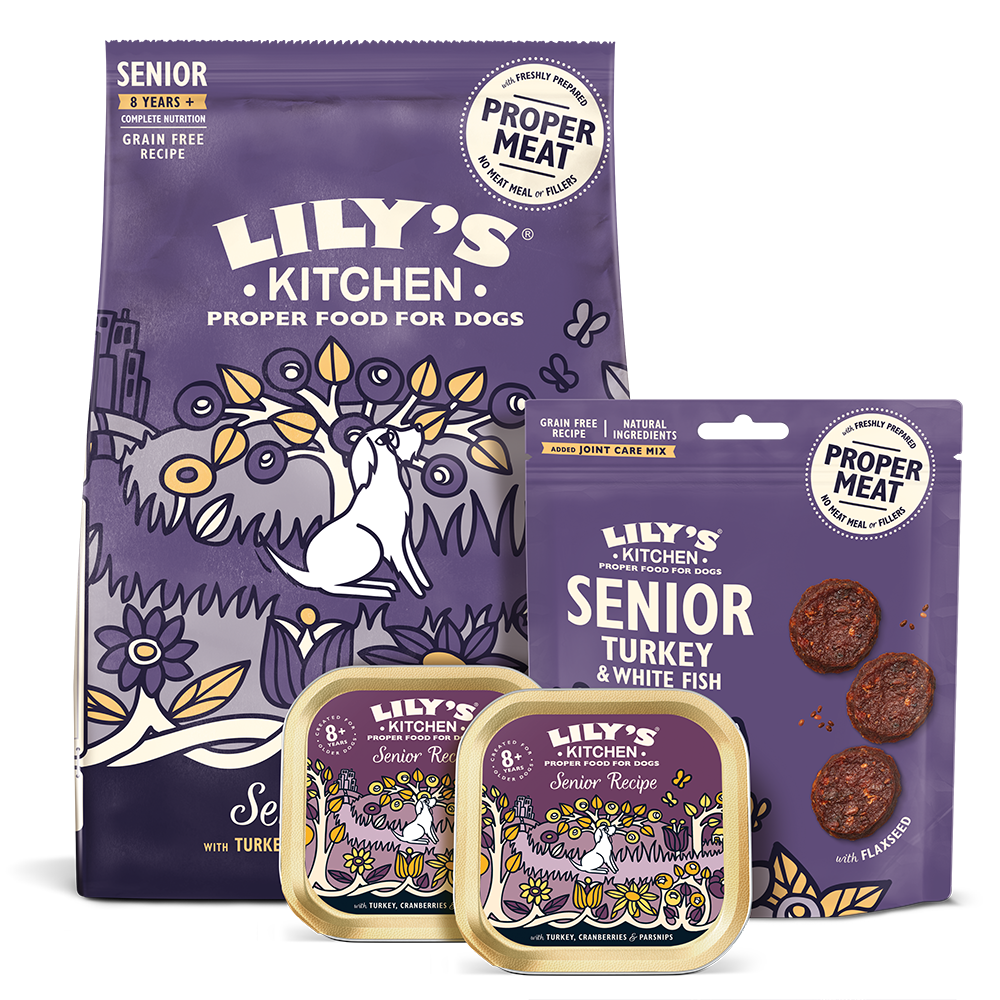 Our nutritious, natural recipes for senior dogs are packed full of proper meat and vibrant veg, along with our special blend of herbs and botanicals. Specially tailored to help support their stage of life, our senior food is bursting with goodness to provide the very best nourishment for your four-legged friend.
See menu